Not to be confused with Mrs Battle-Axe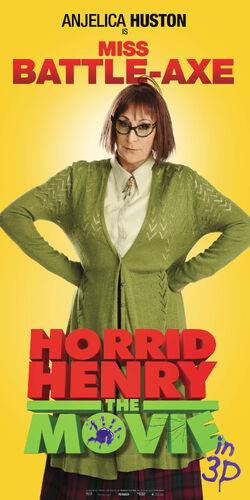 Miss Boudicca Battle-Axe is a strict school teacher. She teaches Horrid Henry, and many other students except Perfect Peter, Goody-Goody Gordon, Tidy Ted and Spotless Sam. She always keeps an eye on Henry as he's always horrid. She once said that Henry's class was the worst she had ever taught. Miss Battle-Axe appears to be Scottish. In very few episodes, her mother, Mrs. Battle-Axe, has appeared, who seems to discipline her daughter greatly. Miss Battle-Axe dislikes children and likes giving detention
Trivia:
In the movie, it is revealed she was the first person to win 2C4S.
Gallery:
Ad blocker interference detected!
Wikia is a free-to-use site that makes money from advertising. We have a modified experience for viewers using ad blockers

Wikia is not accessible if you've made further modifications. Remove the custom ad blocker rule(s) and the page will load as expected.