Rich Aunt Ruby is Mum's sister, Henry and Peter's aunt and the mother of Stuck-Up Steve.
She is regarded as rich and often buys Steve expensive gifts for Christmas. She also lives in a rather large old house with Steve. She is often seen as quite grumpy at times.
She wears a magenta suit, white shirt and magenta skirt in the TV Series. She has burgundy-magenta hair. Horrid Henry sleeps in the attic bedroom when he comes over for the weekend. She is also shown in Happy Birthday Steve.
Gallery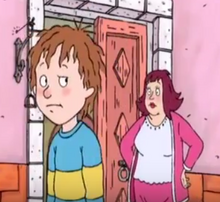 Ad blocker interference detected!
Wikia is a free-to-use site that makes money from advertising. We have a modified experience for viewers using ad blockers

Wikia is not accessible if you've made further modifications. Remove the custom ad blocker rule(s) and the page will load as expected.