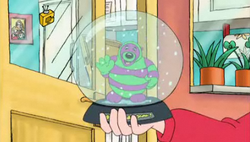 Roly Mo is a fictional character from The Fimbles, later getting his own spin-off, The Roly Mo Show.
In Perfect Peter's Pen Pal, Henry is seen holding a Roly Mo toy which presumably belongs to Peter.
In Horrid Henry Says Goodbye, Henry's friends give him a snowglobe containing a figure of Roly Mo as a going away present, he was not impressed.
In Horrid Henry Goes to the Movies, when Polly asks Henry and Peter if they have gone to the toilet before the movie, she says "Hold on a Roly Mo."
In Horrid Henry Goes Gross, When Henry says to Peter he is looking for a mole, Peter shows to him his Roly Mo toy, and Peter sings the Roly Mo song in the progress.
In Horrid Henry's Big Birthday, Yugo and Migo (From The Roly Mo Show) appear at Henry's house, and he invites them to his party.
Trivia
Roly Mo can make cameos as he, along with the two shows he appears in, were produced by Novel Entertainment, which also produces the Horrid Henry TV series.
Ad blocker interference detected!
Wikia is a free-to-use site that makes money from advertising. We have a modified experience for viewers using ad blockers

Wikia is not accessible if you've made further modifications. Remove the custom ad blocker rule(s) and the page will load as expected.